What is ADHD entrepreneurship? It's unlocking your business potential by embracing patience and faith!
Psst - Click to join the waitlist to be invited to our weeniecast hyperfocus community!
Hey lovely weenie! Welcome to another episode of The Weeniecast - the podcast for ADHD entrepreneurs seeking business strategies.
I'm your host Katie McManus.
This episode I'm asking "What Is ADHD entrepreneurship?" and suggesting it's actually about having patience and faith.
I'll be discussing with you the importance of patience and faith when starting a business, particularly for individuals with ADHD.
I'll be emphasizing the need for realistic expectations and consistency, debunking the allure of instant success promoted by certain business gurus.
Watch the episode promo
The game of faking high cost luxury
In a world dominated by instant gratification, it is easy to become discouraged when immediate results are not achieved in business. The host reflects on the influence of social media and the portrayal of lavish lifestyles by some influencers, revealing the extent to which these individuals can fabricate success.
I will be sharing all the tactics used by fake business gurus, and uncovering the truth behind their seemingly luxurious lifestyles.
Nothing is what it seems!
From obtaining private jets for those instagram perfect photos to utilizing designer rental services, these individuals craft an illusion of opulence to impress their audience and elicit trust in their business acumen.
But don't worry - I'm here to lift the curtain on their parlour tricks for you!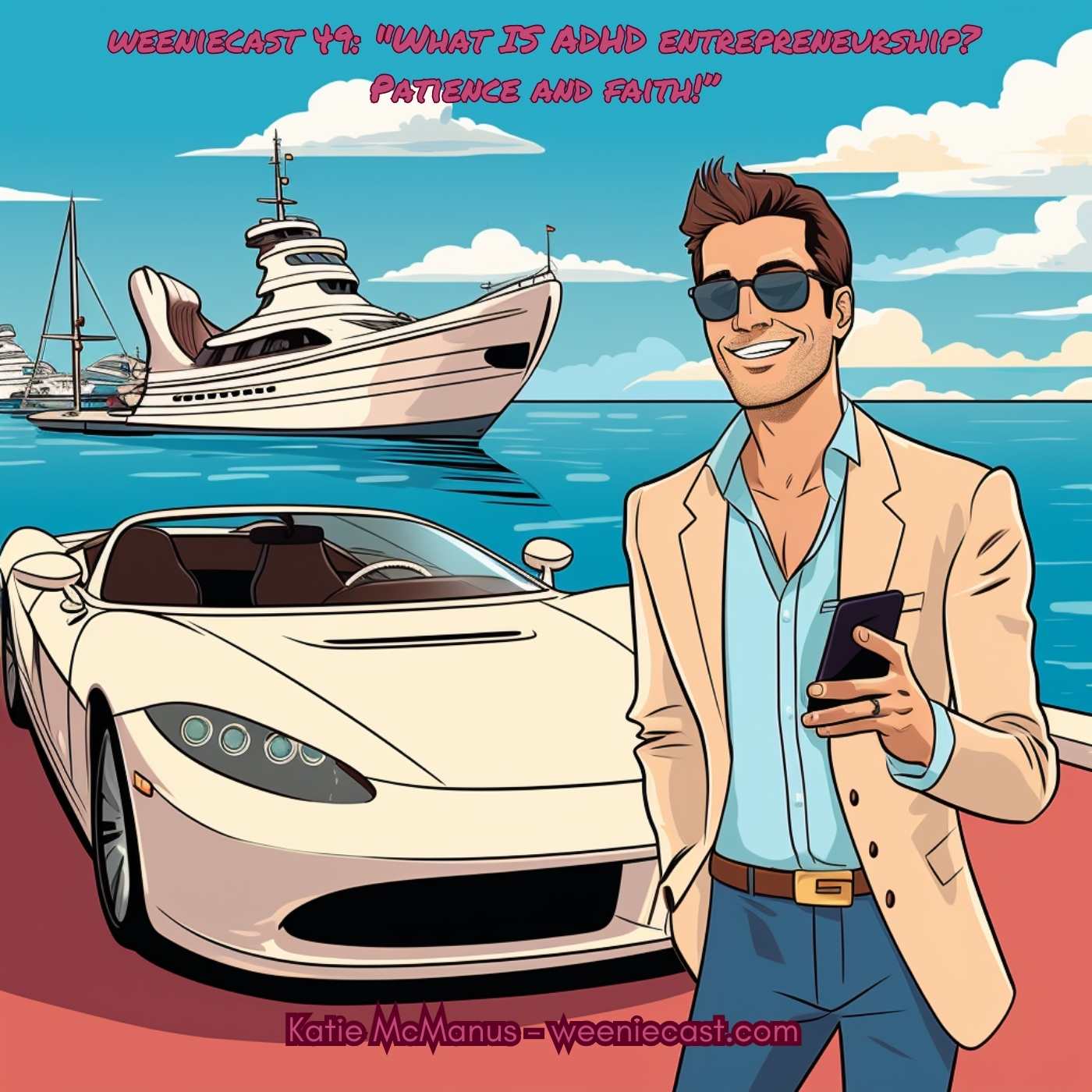 Don't be distracted by your doubt!
The episode will highlight how fake business gurus often try to instill doubt in their audience, making them question their own abilities and strategies.
By casting doubt and creating a sense of inadequacy, these influencers manipulate aspiring entrepreneurs into seeking their guidance and products.
Let's put an end to their ability to manipulate you so brutally. Share this episode with any other business owners that you think would benefit from a little truth around the contrapreneurs that prey on unsuspecting ADHD entrepreneurs.
The key moments in this episode are:
[00:01:49] Consistency is key; unrealistic expectations are harmful.
[00:09:27] Sure, engagement is good but where are the clients?
[00:13:35] Lost in woods and why it's a valuable business lesson for you.
[00:18:05] Optimize strategies for our ADHD brains in business.
The next steps for you after you've listened to this episode are:
Book a call with me: If you want further help or action steps, you can book a call with me to discuss your specific needs and how I can assist you in achieving your goals.
Message me: If you're looking for insights and guidance tailored to your specific needs. Mention the Weeniecast when you do so I have context!
Check out my website: Visit my website to explore more resources, blog posts, and valuable content related to your area of interest. Stay updated with the latest industry trends and tips.
Follow me on Instagram or TikTok: Join my social media community to get regular updates, tips, and insights. Engage with my content and connect with like-minded individuals in the comments section.
NEW!! Our weeniecast hyper focus community:
Are you ready to escape the world of weenie entrepreneurship, ignite your passion, and surround yourself with a dynamic community of ADHD entrepreneur go-getters?
Great news! The Weeniecast Hyperfocus Community is your one-stop destination for all things empowerment, growth, and success!
With the Hyperfocus Community, you're stepping into a space designed to amplify your growth, ensuring you're equipped with the insights, strategies, and mindset shifts to catapult your business to new heights.
As well as group coaching, networking and business referral exchanges there will also be some access to my premium services.
You'll also be able to say sayonara to the days of going it alone.
In the Hyperfocus Community, accountability becomes your superpower.
Surround yourself with like-minded individuals who are ready to hold you to your commitments, ensuring you remain on the path to success, even when challenges arise.
Not only that but you'll get first dibs on my resources, workshops, and expert insights, tailored to your entrepreneurial journey.
Whether it's nailing your business strategy or mastering the art of work-life balance, the Hyperfocus Community equips you with the tools you need to thrive.
Click the link to find out more:
https://weeniecast.com/hyperfocus
Prefer to read your podcasts? (Transcript) The weeniecast for Winners premium podcast
Our spin off premium podcast "Weeniecast for Winners!"
Episodes are released earlier, ad free, and unbleeped.
Click on the artwork or here to get access.