Creating systems that better support ADHD entrepreneurs and their businesses...
Do you want to free yourself from the constant need for workarounds in your business operations?
Are you searching for a way to optimize your processes without relying on patchwork solutions?
In this podcast episode, I will reveal the key strategies and systems that ADHD entrepreneurs can implement to achieve a seamless workflow tailored to their unique neurodivergent needs.
Say "goodbye" to workarounds and get walking along the path to streamlined efficiency in your business.
I want to also start off by acknowledging that implementing these systems can be overwhelming, but I'd like to encourage you to listen through to the end, give my suggestions a try, and if you still feel overwhelmed, book onto an initial free chat with me.
Here's where you can book a call with me!
Watch the episode promo
Having happy clients is a science
Righty then, my fellow ADHD entrepreneurs!
This episode is all about something near and dear to my heart... the importance of setting yourself up correctly so you can onboard your amazing clients in a way that will keep them satisfied!
When we, as service providers, ensure our clients can work with us more easily, that's only going to help us grow our business!

We need to make it easy for them to access the services we're offering that they need.
That's where an ADHD-friendly scheduling process comes into play.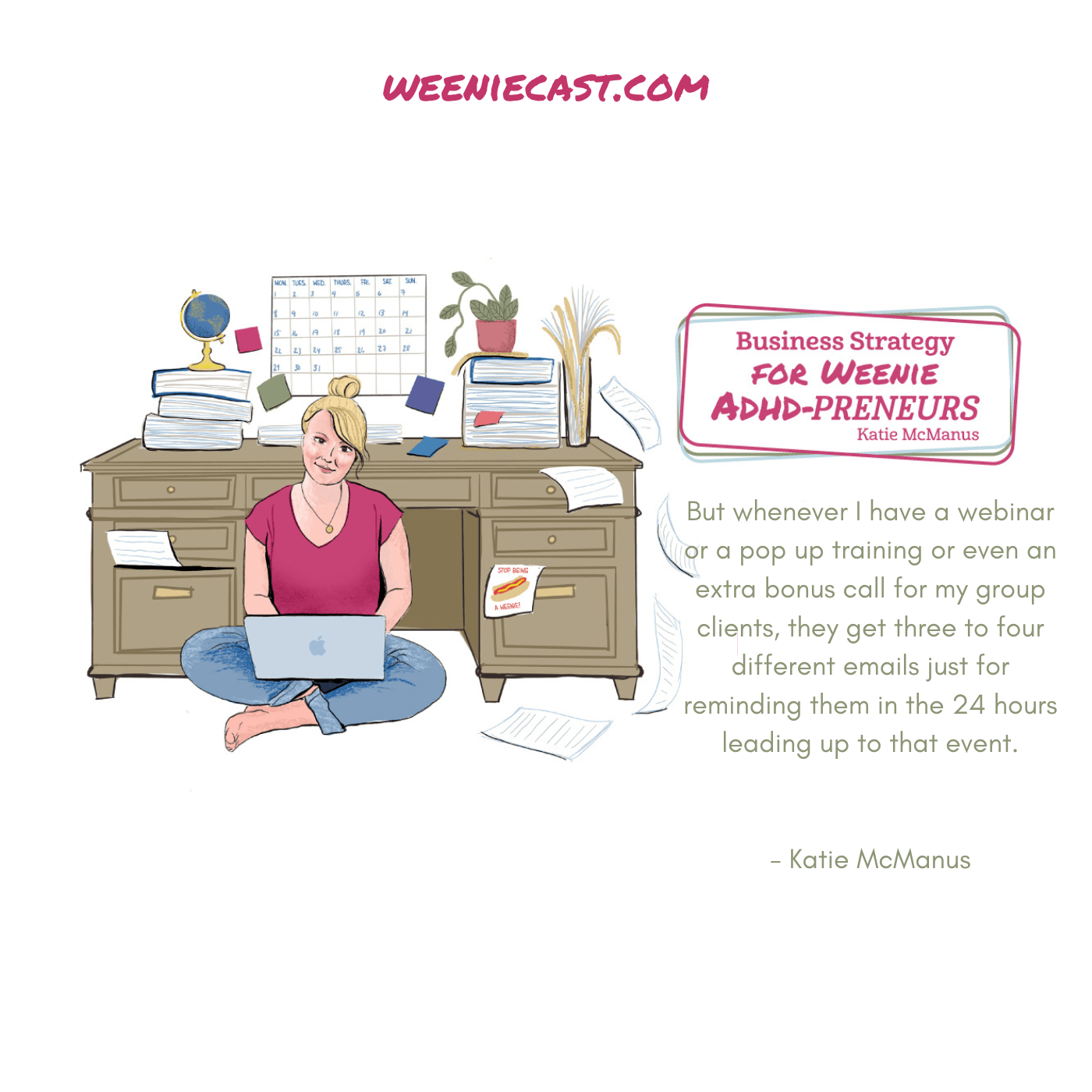 ADHD friendly systems and processes
We know how frustrating it can be for our clients to waste money on unused services or not get what they need. And hey, let's be real - mistakes happen.
We're only human, and perfection isn't the name of the game here.
But what we can do is optimize our systems for ADHD, so our clients have a seamless experience.
For our fabulous clients, an ADHD-friendly scheduling process means they don't waste a penny on unused services, and they always get the support they need.
Be unapologetically unwavering on your choice of suppliers
My advice is to look for service providers who understand the importance of an ADHD-friendly approach and provide clear instructions and reminders to help you stay on track. Don't compromise your systems and processes for even one supplier or client.
In this episode I'll talk you through how you can streamline everything, from payment systems to event reminders, making our ADHD lives a whole lot easier!
No more chasing clients for payment - we've got better things to do!
Here's the bottom line - an ADHD-friendly scheduling process benefits everyone involved.
It's a win-win!
So let's embrace tailored standard operating procedures (SOPs) and show some love to our weenie ADHD entrepreneur tribe.
Together, we'll make business smoother, stress-free, and totally awesome!
Prefer to 'read' your podcasts?:
The key moments in this episode are:
00:00:00 - Introduction to ADHD-friendly systems

00:01:33 - The challenge of seeing the big picture

00:03:30 - The importance of ADHD-friendly systems

00:07:11 - The dangers of not having ADHD-friendly systems

00:14:36 - The importance of easy payment systems

00:16:51 - Reminders and communication for events

00:20:23 - Scheduling and taking up space on their calendar

00:21:52 - Avoiding workarounds as standard operating procedure

00:25:18 - Seeking more help and support
The next steps for you after you've listened to this episode are:
Book a call with me: If you want further help or action steps, you can book a call with me to discuss your specific needs and how I can assist you in achieving your goals.
Message me: If you're looking for insights and guidance tailored to your specific needs. Mention the Weeniecast when you do so I have context!
Check out my website: Visit my website to explore more resources, blog posts, and valuable content related to your area of interest. Stay updated with the latest industry trends and tips.
Follow me on Instagram or TikTok: Join my social media community to get regular updates, tips, and insights. Engage with my content and connect with like-minded individuals in the comments section.