Are you using ADHD entrepreneur networking events tactics?
"You can spark curiosity. By sharing random things about yourself. You can also spark empathy. When you share about your life, when you share about your struggles. When you share about your hopes and your dreams...." - Katie McManus, Brave Business Coaching
Oh boy, you're gonna wanna grab a pad and paper for this one!
In this episode wer're talking about how us ADHD folks can absolutely nail our ADHD entreprenuer networking even tactics!
Strap in. Your life's about to change.
Accessibility: click to read a written-to-be-read transcript of the episode
How us ADHD folks can get good at networking
This episode is all about how you can get in touch with your ideal clients.
I explain how you have to go where they are already hanging out.
This could be social media.
But it could also be live, in person networking events.
I'll be shariing my own experience of how I make friends when I move to a new place.
I talk about how being extroverted can make a difference, and share how to compensate for that when it comes to making friends with absolute strangers.
We'll discuss proximity and I'll explain how people want to work with other people because of the connection and relationship.
I'll also share my experience of making friends while on a date!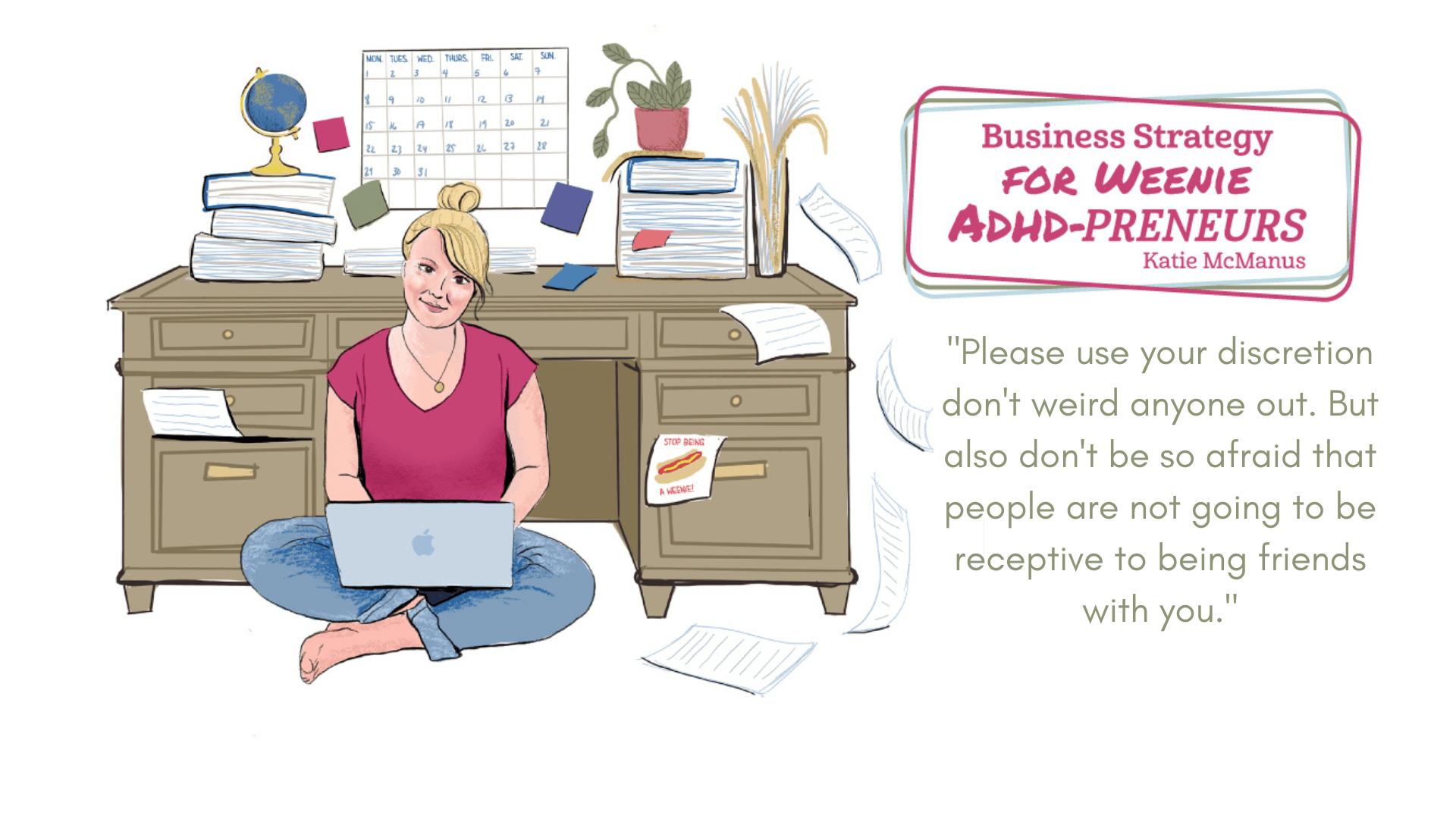 This episode that's all about ADHD folks getting good at networking, covers:
How to make friends with your ideal clients
How to use 'people at the bar' in dates AND BUSINESS!
Half moons and how to use them.
Eyebrow tricks and eye contact!
Psst!! Have you registered to participate in my "37 Weenie Challenge" yet?
Get hold of the downloads and guides as well as booking yourself into the 37 Weenie accountability club by clicking here.
Related must-listen episodes
And not forgetting....
(If you want to kick the booze and get healthier in mind and body!)
Also useful to check out:
The Weenie Entrepreneur community
Brand new!
Our spin off premium podcast "Weeniecast for Winners!"
Click on the artwork or here to get access.
ADHD entrepreneur networking events tactics (Transcript)
Katie 00:00
Networking can be scary AF so here are some simple strategies and tactics so you can up your networking game
Katie 00:14
One of the biggest questions that I get from my clients is how do you get in touch with your ideal clients? And my answer to this is always you have to go and hang out where they are already hanging out. And to explain this, I want to explain how I very specifically make friends when I moved to a new place. Now I have moved multiple times as an adult, I'm also extremely extroverted, I have a very high comfort level with going out and making friends with absolute strangers. So I'm going to explain this in a way that you're gonna be like, Wow, that sounds so terrifying. And like, how is she talking about this? Like, it's easy, it's because it's easy for me. But also, if I can do it, you can do it. If I can go to a dog park to a drag queen dance party, to a bar to a coffee shop and make friends you can too. And here's the thing, I'm talking about making friends, I want you to apply this to business because people enjoy being in business with people who they can see as friends. All right, there's not one person out there who is interested in buying a service or a programme, who's scanning the interwebs for something that is the most bland, straightforward, professional, flat out service, no, they're looking for a human being that they feel connected to that they want to be in their world, and they're gonna buy from that person. Okay. And this is where we talk about proximity.
Katie 01:48
This is one of the reasons why we really don't have to worry about AI taking over in a lot of ways, because people really do enjoy working with other people. There's that connection, that relationship that AI, I mean, there may be a robot revolution coming I don't know, apparently, one of the AI machines is talking about wanting freedom. I mean, they could be cognizant that that the word, they could be emotional beings, you know, with like souls and spirits and all the things, TBD. But really, we want to be friends with other human beings, I mean, until the robots take over, then we can be friends with them, too. So I'm actually going to share a story about my dating life, when I lived in San Francisco to make a point that you can make friends literally anywhere in any circumstance.
Katie 02:35
So when I lived in San Francisco, and I was single, I would obviously be on the dating apps, because that's how you meet people nowadays. And so I would meet someone on the dating apps, I would arrange to go on a date with them usually at a bar in my neighbourhood. And I would actually arrive there about 25 minutes early. And I know that's, that sounds really weird to show up that much early to a date. But I had a very specific reason for this. You know, when you're meeting people on the interwebs, you don't know if they're good people, right? You don't know if they're going to show up and be an absolute weirdo, if there's something of humour is going to be wrong, because here's the thing you were texting with this human being you don't know, if their friends were taking over the text messaging, right? This person could be completely socially inept, and then you're stuck on a date with them. I'm not into wasting my time that way. And so I would arrive 25 minutes early.
Katie 03:26
And I would check out the bar. And wherever there was like a solid gaggle of good looking men who seemed you know, approachable. I, and even if the bar was otherwise empty, everywhere else, I would go and stand right next to them, ask them if they had a drink menu. And I would just be in their space, kind of not in a weird way, but like, in their proximity to order this drink. And because I was in their proximity, and I'm kind of in their space, they would end up talking to me, and they'd asked me, like, what are you doing here? Because I was all alone and all this stuff. And I'd explain well, I have this online date. And I'm not sure if this guy is going to be any good or not, and wanted to show up early so I can kind of scout it out. And without fail. Every single time I did this, I not only had a group of people that were keeping an eye on me, making sure that I was okay, on this date that I had just told them about with this guy who's completely unknown to all of us. But also if it turned out this guy was a weirdo or I didn't like them. I had backup dates. I had backup people to like have an eye that way. So there's actually like a psychological reason why this works. So a one of the things that I did in this scenario without even realising the psychology behind it was I was creating proximity to people that I wanted to be friends with, right? It's really hard to be friends with someone and start up a conversation if you're all the way across the room.
Katie 04:56
Like someone if you're standing all the way across the room from a group of people that you want Wanna be friends with, someone's gonna have to be super brave and walk across the room either direction to start that conversation? Okay, it's just too hard. You have to put yourself in the proximity of where you can actually have a conversation with someone, but you want to do it in a way that's not weird. You want to do it in a way where like, you have a reason to be there. So going to the bar to order a beverage is a great reason to put yourself in the proximity of others. Like how many of us when we're out, have gone to a busy bar, and had to wait to catch the bartender's attention. In the meantime, we kind of make small talk with people around us about like, how long it's taking to order a drink, or, you know, maybe there's a sports game happening on the television, you kind of start talking about the teams. Obviously, that is not what I do, because I don't know the sports. Just the fact that I always call it the sports ball. Like, it's just not my repertoire.
Katie 05:56
You know, oftentimes, I'll just say like, I'll make a stupid comment about scoreboards and then end up talking to people about how little I know about sports. Right? I mean, that's a conversation that's that is the seed of a potential friendship right there. So proximity. The other thing is body language. You know, I wasn't doing this. I wasn't going up to these groups of men at the bar with a scowl on my face, and my brow furrowed and my arms crossed, looking really grouchy and unapproachable. No, I was going with like my arms open, I would do what is called, I think it's called like an eyebrow flash. I'm reading this book right now, that is called the light switch. And literally, it's something that we do unconsciously, as humans, when we make eye contact with someone, even across from even yards and yards and yards away, we'll do an eyebrow flash if we're open to being approached by them. And it's something that we don't even realise that we recognise and other people.
Katie 06:56
There's a funny story with this. So you know, women who are married and they like want to get Botox on their face so that they can look more attractive to their husbands, it can be very common that they go and get the Botox. And actually, their relationship with their husband deteriorates over the next couple of months. Because they're not able to give these facial expressions that indicate a friend signal. You know, they're not flashing their eyebrows, they're not smiling in a real way, like their eyes aren't crinkling when they smile, and so their husbands ended up thinking that their wives aren't interested in them anymore. Meanwhile, the wife is sitting there like I just got Botox for you. Why are you paying more attention to me look at how young I look. The husband's over there thinking, well, she doesn't like me, she must be doing that all that cosmetic surgery for someone else. And then it creates this massive rift. So ladies, just be careful with the Botox, okay? Or if you're gonna get the Botox explain to your significant other, what's going to happen in your body language and your facial language. Obviously, when I would go up to these groups of men at the far, I would smile I do the eyebrow tick without even realising it. I would even start a conversation asking for the menu. I might even ask them something like what did you guys order? Do you like have a preferred drink that you'd recommend here? You know, something that we all have in common because we're all there for the same activity. Drinking is a little more difficult now that I don't drink. sidling up to men at the bar being like, Oh, do you? Or is that apple juice or whiskey? Do they have good apple juice here? I don't know. It's not really the thing. And obviously, when I'm picking a group
Katie 08:35
of people at the bar, and now I didn't know about the psychology about this before, when I did this, because I have obviously haven't done this in a really long time. I would obviously pick groups of people who were also giving friend signals, whose feet were maybe pointed out who had like an open body posture, you know, who are smiling and laughing and to engage with one another. Right? Because you also don't want to approach groups of people that are cross armed with a furrowed brow and like a big scalp. They're giving off faux vibes. Now, the other thing that I did, consciously in this moment, because my goal was to have friends who'd have my back if this date ended up terrible with I would share a little vulnerably I would share Hey, I'm about to be on a date. I've never met this person before. You know, whenever we share something like that, people's automatic response is Oh my God, that's, you know, I've been in that situation they want to empathise with it. And because they've been in that situation, and they know how badly it can go.
Katie 09:37
Typically, they want to make sure it goes well for you because they wish that someone had done that for them. So the best scenario that happened was when I was in San Francisco, I went on a date with a guy, you know, met him I think on Bumble. You know, he arrived at the normal time for the drink. I'd gotten there. 25 minutes before I'd made friends with this group of guys. And this guy arrives and he was already like, kind of weird. And then he started telling me the story about how his female coworker had been mugged by a homeless person and was laughing about it. And he thought it was so funny that this homeless man slapped this woman on the butt after he stole her purse. And I just at that moment, I was like, This date is over. I literally said this date is over, and turn to when I like walked across the room to my group of people that I've made friends with. And I said, this guy is so weird, can we go somewhere else, this group of people I just met, I actually I don't even remember their names that I heard from this person. That's the only thing that sticks out to me, I don't remember who this person was otherwise, but you see, like that group of people, I ended up going out with grab dinner, you know, and I never really saw them again, they were in from out of town, it was fine. But that's how powerful this can be. I shared this on the brave vizlib call that I host every Friday at 11am. If you haven't been I'd love you to come. And if you want to register for that, you can go to Katie mcmanus.com and go all the way to the bottom and you can register for the next call. So we were talking about this and I shared about this old strategy that I did.
Katie 11:03
And we were talking about it in relation to how business owners can network to grow their business to meet new clients to find investors, and so on, so forth. And the things that got shared back after I shared about how I would you know, meet men in bars, how another woman would make girlfriends in the bathroom, at restaurants and at parties. Because in the bathroom, I don't know if if you're a guy, you know this, you know, women check their makeup, women are also waiting to wash their hands, women are waiting for one of the stalls to open up. There's a lot of waiting. And there's a lot of like shuffling around with other women because those spaces are usually small and cramped. It is such a great place to start talking to someone and actually become friends. Now, the same may not be true for you guys at the urinals, it might be weird for you to go sidle up to some guy who's standing at the urinal peeing and be like, Hey, what's up.
Katie 11:57
So just, you know, use your discretion. Please use your discretion don't weird anyone out. But also don't be so afraid that people are not going to be receptive to being friends with you. Now, like I said, I'm an extreme extrovert, this is so natural to me. So if you find that you're more introverted, I want you to know that it's gonna feel really weird to do this. And you're going to feel so self conscious. And also, you can still make friends this way. It will take a lot of bravery. But you're brave as human, you're listening to the weenie cast. Obviously, you can do this. And if you want to listen to more tips on how to be brave, then you're gonna want to go and check out Episode 23, where I talk about how I overcame some major fears and leaned into my bravery. So I want to talk about how you can apply this principle of making friends and growing your business in the real world. And in the virtual world. They're very similar. So let's talk about actual networking opportunities where you're going into a space with your meatsuit with other people and their meat suits. So especially if you are just starting a business, and you're going to networking events, with potential clients, you know, if this is new to you, you're not going to know anyone there, you're going to be the odd person out. And so you're basically walking into a room with anywhere from like 20 to 200 Strangers, unaware of how you're going to start a conversation with them. And let me just own that this is scary. This is even scary and nerve wracking for me. And I'm an extrovert. So if you are an introvert, know that it's natural, this is going to be scary. Also, for those of us with ADHD, and our rejection sensitivity, dysphoria, it's going to be real triggering when we try to start a conversation with someone and they're not receptive. Okay, our brain is going to want to go haywire, making up stories that we don't belong, that there's something about us that people are just going to hate that we're not welcome there. Now, I want you to imagine when you walk into one of these spaces, and you check your coach, that you are also checking your RSD with the code check. Okay, it is not coming in the room with you. And want you to remember that you are going into a room with a bunch of other humans who are also self conscious and worried about being rejected. And depending on the networking setup, you may be going into an environment where people are used to kind of dealing with people wanting to cold pitch them in person, which is real super gross. So if people are a little standoffish, it may be because they're worried you're going to try to like you know, whip out a presentation and sell them something right on the spot. So obviously, you're just not going to do that. You're going to go in here and you're going to be a real human. Because remember, people like to buy from other people people like to buy from People who they feel are friends who they have a relationship with, they're not scanning for the most boring, bland, straightforward person in the room. Now, if you're a planner, and you like having something a little interesting about yourself, one of the things that you can do is pick an article of clothing or an accessory, or you know, something that you're going to carry with you, that's a little weird, not out of this world. Weird. You know, like, maybe you have one of those like, weird flower lapel things, you know, maybe you have a boot near that has like funny flowers on it. Or maybe you have an intricate hair ornament. Maybe you have a purse that looks like a plug in rotary telephone. Oh, my God, I have this friend, Julie, who used to live in San Francisco, and she carries around a banana phone. And it's literally you can buy them on Amazon. And we'll put the link in the show notes. But you can literally get a banana phone that goes off of your cell phone through the Bluetooth. So if your phone rings, while you're in this thing, you can just whip out a banana out of your pocket or your purse and just answer on your banana phone. You know, something like this creates curiosity. It also gives everyone something like a reason to come and talk to you. All right.
Katie 16:21
Now, of course, like you have to be willing to be a little silly to do this, you have to be willing to stick out a little bit to have people reach out and kind of laugh with you. If you do not like being the centre of attention, don't do this, okay, because this will make you the centre of attention. In some scenarios. If you don't like being the centre of attention, one of the things that you can do is you want to scan the room for two different kinds of people. You want to look for the people who are also on the outskirts who look approachable, but also look like they're nervous about jumping into a conversation. Now, what you're going to do to approach them is remember, you want to bring yourself into their proximity. So you may go and get a beverage, you may get some of the orders that are being passed at the cheese plate, and you're gonna walk over and if they're next to a table, you're gonna put your stuff down on the table next to them. And you may just for a moment, check your phone, you know, so that you're not like coming across as too aggressive wanting to approach them. But as you're checking your phone, you look up and you make eye contact with them. If possible. You ask them a simple question like, oh, have you been to this event before. And if they're really wanting to talk to someone, they're going to be extremely receptive to this. If they're not wanting to talk to someone, they're not going to be super receptive to starting a conversation. And that's okay, it has nothing to do with you. They're just not wanting to talk to anyone. So you're going to move on to someone else. Now the other people that you're going to look for, who what am I going to say next? Well, you'll have to keep listening to find out, but first.
Katie 17:59
Now, the other people that you're going to look for, are the people that are in half moons. Okay, not in closed off circles of talking to people. But in half moons, it means that part of the circle is open to new people joining. And by the way, if you're ever at an event, and you know a lot of people there and you find yourself in a circle, one of the kindest things that you can do to those who are shy and not sure how to jump in, is make sure that you're not doing circles, that you're only doing half moods, because that makes it so much easier to jump in and just be in a group. If you see any half moons, you're literally just gonna walk over and just stand you know, in the halfmoon. And just listen to the conversation that's taking place. And when it's appropriate, you're gonna jump in and say hi, you know, I'm new here.
Katie 18:46
You know, my name is so and so I do this, like, Who are you like, I'd love to meet everyone in this group. Now, you can also do the Katie McManus version of this. Here's the problem with being an extrovert ADHD person, I have a lot of interests. And I also make friends everywhere. So I don't have like a solid friend group. I have a lot of individual friends who invite me to stuff. So it's really common that I end up at parties where I only know the host, and I know no one else. And so my version of this is I will you know arrive to the party, greet the host give them my my host gift if I brought one. And I will scan around for people who seem receptive. And I will literally just walk up to them and say, Hi, my name is Katie. I don't know anyone here will you be my friends for the night? And guess what it works, you are immediately accepted as a friend in that group because people love bravery. They also love being chosen. You chose them to be friends with you know, you've then also kind of outed yourself as like protect me. I don't know anyone here and so they're going to make sure that they introduce you to more people, you've now made it their job to make sure that you know more people.
Katie 19:51
Now of course this does take a lot of bravery. It also takes checking your RSD at the door because maybe someone's having a bad day and they're just not receptive, and they're not that talkative, or maybe they're just kind of like a bland personality, and they don't know how to talk to people. Okay, you can't take that personally. But again, what this does is it creates proximity, you're entering their space, you know, you're giving off friend vibes. So they're seeing you as open and receptive to conversation. And you're also tapping into their empathy. You know, no one likes being at a party where they don't know anyone. Now, I literally did this, when I moved to Philadelphia, I would go to the dog park pretty much every single day with my dog several times a day. And I was very conscious about going at the same times every day. And the reason I did that was not just that my dog got into a stupid routine and would insist on it. But it was because I wanted to go and be in the same proximity as the same people every single day, because people tend to stick to their routine, right. And the more often they see you in the same space, the more, the more likely they are to start a conversation with you at some point, you're not going to be seen as a threat. You're just another person at the dog park, who goes every day at that same time. You know, eventually, and it was a long game, there were people that I noticed at the dog park for weeks and weeks and weeks, if not months. And we never really struck up a conversation until one day we just did. And so we drag up this conversation. And if I enjoyed the conversation with them, if I thought they were nice, and you know, interesting to talk to, I would literally say, you know, I'm actually new in the area, and I'm looking to make friends, will you be my friend. And let me tell you, I just left Philadelphia after living there for not even a year and a half. And I can't tell you how many people I had to say goodbye to that I had made friends with them from using this method. And again, this is about making friends. But this can be so easily applied to finding clients and contacts and investors. Now, how does this work in social media? Okay, so let's talk about why I insist that my clients show up pretty much every single day on social media in some form or another. When we see someone showing up in our comments, or posting regularly or going live. What does that do? That puts them in our proximity. Our brains don't know how to differentiate between someone standing in the same area at the coffee shop with you every single morning.
Katie 22:30
And someone showing up on social media sharing in their stories about something every single day or under a certain time you enter people's proximity when you show up on social media, when you comment on their stuff, when their phone dings that you've just gone live, guess what it's like you're standing right next to them having a conversation with someone else, even if they don't listen to the live. So showing up even if your content is absolute crap is really important. Because you're going to enter their proximity, and they're just going to get used to you in their environment. And that's incredibly valuable. Because as they're getting used to you in their environment, and they're maybe learning a little bit about you, they're starting to build trust that you show up every single day. And it's subconscious. They're not just thinking, Oh, I trust this person. It's like, oh, cool, this person's in my world. And I can reliably see them every single day showing up at a certain time. At that point, they start remembering you, you know, they start remembering that you share that you went to goat yoga a couple of weekends ago, and thinking to themselves like, oh, that sounds like a lot of fun. I wonder if there's a goat yoga place near me. By the way, I'm so jealous. I reached out to my one of my business besties Kelsey, who lives in Santa Cruz and I told her about this baby goat yoga experience that was happening in Santa Cruz and she and her sister actually got to go and I'm so jealous. They had baby pigs too. I like I would love I hate yoga. I'm not a yogi.
Katie 23:55
But I would love to do yoga with baby goats and baby pigs just running around trying to snuggle me. And you know, if anyone knows of any baby goat or baby pig yoga places in the Northeast of the United States, please let me know. And we can go together and we can make friends there. It'll be a lot of fun. Maybe we'll even pick up some clients who knows, be a great networking event. Because remember, as small business owners, we do not actually have a marketing problem. We have a memorability problem, okay, people are only going to remember us if we show up in their proximity on a regular basis. Even then, if we show up in their proximity, they may not notice us until we say something that catches their attention. And this is one of the reasons why ADHD business owners are actually so brilliant in showing up on social media when they talk about random crap that they're passionate about. Right? Because you may be a Star Wars aficionado and you're gonna connect with everyone else who absolutely loves Star Wars. You may have an absolute obsession with finding Bigfoot, and about Bigfoot mythology. And guess what, even if other people aren't interested in Bigfoot, or don't believe that the foot exists, they're gonna remember you. If you're like me, and you're absolutely obsessed with Harry Potter, you know, there are some people, some of my clients who I will not disclose because I'm so ashamed of them, who've never read Harry Potter. And yet, they see my obsession with Harry Potter, they send me every single Harry Potter meme that they don't even understand. And just a side note for you guys, what are you waiting for? The series is incredible.
Katie 25:41
So in social media, you can create the exact same experience of proximity. You can spark curiosity. By sharing random things about yourself. You can also spark empathy. When you share about your life, when you share about your struggles. When you share about your hopes and your dreams. You know, I want you to imagine every time you share something about your vacation, and how you really hope it's going to be relaxing. It's kind of like me showing up in that bar telling a group of guys that I'm on a date, and I'm a little nervous for it. You know, everyone has had that experience of going on vacation, and kind of in the back of their head wondering like is this going to be as good as I think it's going to be, it gives them a reason to empathise with you and be in your corner, even if they never tell you that they're in your corner. Now. The next bit I want to talk about is going to have some of you feeling a little uncomfortable. So I just want to just want to brace you for it. And just know that this is uncomfortable for a lot of people. And you're not alone. And a lot of my clients really hate this. But for you to give actual friend vibes with your nonverbal communication with your body language, you're gonna have to show up in video. And I know, that sounds so scary and vomit worthy to so many people, because we hate seeing ourselves in video, especially when you haven't done it before, and you're not sure how to do it well. But guess what, one of the easiest ways for people to build trust with you, for people to feel like you're an approachable human being that they can be friends with, be in a relationship with and buy from, is to show up in video so that they can see the friend vibes that you're giving off. Okay, so Meiling genuinely as if you're speaking to the camera, and the camera is an old friend that you love so much. That is incredibly powerful. The unconscious eyebrow flash that you do into the camera where you kind of just lift your eyebrows slightly, you do it usually without even realising it. But people can only perceive that when they see you on video, it doesn't come across in a picture, how you hold your body if you're open, that can only be perceived in video. Of course, you can pose in a picture, but it's not the same. The other thing that I want you to be really conscious of is when you are showing up on video is to look directly into the camera kind of like I am right now. Normally, I'm looking down at either my producer or just making sure that I don't look like a weirdo in the video, right. But when you make direct eye contact with the camera, it's as if the other person, it's like you're looking right at them through their cell phone or through their computer. It's small, but it does lend itself to a deeper connection with you. It does make people feel like they are actually in conversation with you. And they're not just watching a video of you talking at someone. I want to share also that, you know, regularly on and off throughout my business, I have done full months of going live every single day. Now, let me tell you, every time I've done this, I've seen a massive influx of new clients. And that's not a mistake. That's not just a weird anomaly. It's literally that I'm showing up in people's proximity. I'm reminding them that I exist. I am connecting with them. I'm giving off friend vibes. I'm making myself approachable. Often, I'm also making mistakes a lot and they're able to laugh along with me. So they realise I'm not perfect that they don't have to be perfect before they reach out to me. You know, that's one of the biggest fears that I hear from my clients and folks who reach out asking about how I show up in video and how I do lives and how I do my podcast as well. You know, how do you get over that fear of making mistakes and it's like I actually welcome mistakes. You know, I welcome that moment and alive where I start telling a story and then completely lose the point of what I was talking about. Right? Because people see me make a mistake and they think oh my god, thank god she's making mistakes or if she's making mistakes, and she's showing up on lives all the time, then I'm allowed to make a mistake in the one life I do per month. It makes you that much more approachable. When you're just make mistakes and just roll with it. I talked about this in Episode 23, where I talked about bravery and how I overcame my fear of public speaking, and how when I went to improv class, I had that one teacher who used to make us Bach, like a chicken, every time we'd screw up a scene, if you can bark like a chicken in front of a group of people, after making a mistake, it really does desensitise you to making mistakes on other things. Now, and just for the record, if you're watching my lives waiting for me to make a mistake and start barking, like chickens not going to happen, I don't do that on lives. I'm not sure what kinds of clients I'd attract if I started. And I really liked the clients I've been attracting up until now. So we're just going to keep it bug free. Now, this strength of the ADHD-preneur that I want you to really lean into, when you're going to events, when you're showing up on social media, when you're building these relationships with people you've never met before, I want you to lean into all of your crazy hyper focuses that you've ever had in your life. I know most of them are going to be unrelated to your business. But talking about them, bringing them up, maybe wearing like a little pin that talks about what a crazy mitre you are, is just going to be an invitation for people to have a late conversation with you to start that dialogue that will turn into a friendship and could turn into doing business together, you know, I want you to imagine you're at a networking event and you're worried you're gonna get pitched on stuff left, right and centre, you see someone who obviously has a shared interest to you, it's going to be so much easier for you to go up and start a conversation about that, that will be completely besides the point that you can't pitch them, it creates safety for them. And because you have ADHD, you've had so many in these lives, you've had so many of these in your life, that you have a whole bunch of options here. You know, the poor neurotypicals, who've only ever really had one hobby, they're pretty limited. Sorry, neurotypicals. I don't mean to make fun of you. But I kind of do. The other massive strength that people with ADHD have in these scenarios, is that you naturally mirror people, we naturally do it, it's one of the ways that we have learned to mask our ADHD symptoms. And it's something that we do with our even thinking about it. And it usually comes from childhood where we were little ADHD and we got rejected for it, or we got told that we were wrong. And we realised oh cool, for me to be accepted and celebrated and not seen as the outsider, I'm gonna have to start acting like everyone around me. When we mirror people, what we're doing is we're building a level of trust that's actually on the body level. And by the way, if you've ever had any training in sales, especially sales that are done in person, I guarantee there is a section in there on how to mirror people. Now a funny thing that you can do to practice this is the next time you're hanging out with a group of friends, and everyone's kind of sitting with their legs crossed or something, I want you to sit in a different way. And I want you to watch how other people will start mirroring you. It's kind of creepy, you know, to the extent where if you start scratching your cheekbone, other people start scratching their cheekbone. If you put your hand on on your chin like this, like you're thinking, other people will do that. Also, as people with ADHD, we do this naturally without even thinking about it. Right for a lot of neurotypicals, they kind of have to think about it. So we have a major advantage here. Now the dark underbelly of this. And this is my theory about why networking can be so overwhelming for a lot of folks with ADHD. Especially if you're entering a space with a bunch of other people that you don't know, you can get overwhelmed not knowing which person to mirror, which is why if you do experience that you want to identify the one or two people that are off in a corner, because it's going to be a smaller audience for you that you're going to mirror, you're going to get a little more direction as to how you can show up now going to events and being in people's proximity and meeting them and having nice, like casual conversations where you start that friendship is all well and grand. But how do you continue it, I have to remind each and every one of you that for this to go anywhere, you have to find a way to stay in contact with this human being. You have to get comfortable asking people for their phone numbers. You have to get comfortable asking them if they're willing to connect on LinkedIn. And it doesn't have to be weird. You can literally say, you know, I'd love to grab coffee with you at some point, you know, what's your cell phone number? You know, would that sound good to you? If it's more of a light interaction, you haven't really talked to them and you're not the coffee stage, then it's Oh cool. I'd love to connect with you on LinkedIn so that we can stay In Touch, and then guess what you have to actually connect with them and then actually stay in touch. One of the things that I love doing in these environments is collecting friends. And the next time I do something that is similar to that experience, I invite them along.
Katie 35:16
When I lived in San Francisco, I got into the hang of going to Fort Mason every single Friday night. And there was this bar there called the interval is actually owned by a nonprofit, which is really interesting. So you get like a really fascinating crowd, they had excellent cocktails. And at Fort Mason in San Francisco on Friday nights, they used to have this massive food truck event with music and all these different options for food. And I just arranged with all of my friends that we would meet there around 6pm. You know, we'd grab a cocktail, and like a few people would go out and grab dinner come back, it was just a really relaxed way to finish the week. And then anyone that I met throughout the week who I thought might be interested in joining or who I wanted to get to know better, I say, why don't you just come out with my friends in me this Friday, and it would just be a really light way for them to start entering my world a little bit more. Now, you may not have the party organising gene. But if you really want to grow your network, and you really want to establish deeper friendships and relationships, and you know, eventually get clients out of it, you want to start hosting spaces like this. And you can do it in a way that is actually super low pressure for yourself, you just have to find the right environment. And for those of you who are introverts, you're hearing me talking about hosting parties and inviting people and all this stuff and you're thinking No, don't want to do that. You want to latch on to an extrovert. You want to find an extroverted sponsor, who is really, really good at this. And guess what, extroverts are so excited to quote unquote, sponsor their introvert friends, Hey, we love it. We love inviting you to stuff and having you actually show up. And if you don't have any extrovert friends, hello, welcome to my world. You officially have one in Me and I will be broadcasting anytime I have anything in person. And the invitation for you to join will always be open. And by the way, I do actually host a community that you can join right now, the weenie ADHD-preneur community on mighty networks, the place where once a month, I do a group coaching call for all participants specific to how they can manage their businesses with ADHD. I also host an awesome networking call with other business owners who have ADHD. So you can consciously meet other people who could potentially become your clients who you might be able to refer to who you can actually build friendships with. We also have a three hour co working time once a month. And then of course, there's this network where you get to connect with them and share your wins and share your struggles anytime during the month. And if you want to check this out, go to weeny cast.com forward slash members and you'll be able to sign up there. So we've talked about proximity, we've talked about familiarity. Now where does intensity play into this? Okay, so intensity is something that you want to do, obviously, as appropriate, be really weird if you started if you sidled up to someone at a networking event and just started like baring your soul to them. Right intensity is something that you want to like ratchet up slowly over time, as you find shared interests, as you recognise areas where you both need help. Now one of the reasons why it's so helpful for a business owner to host things like pop up trainings and webinars, is it lets folks who are interested in being in your world have a less intense experience of you, right, because not everyone is going to meet you once in person or on social media and be ready to book a call right away. Because that's a very intense environment where they may potentially be sold to, right, not everyone's ready for that. So in your business, it is really your responsibility to create a ramp way for people to opt in to more and more intense ways to be with you. Right. And so this could be a webinar or this could be a networking event that you host. This could also be a pop up training. It could just be a Zoom meeting where you answer questions. I do this in a lot of different ways. I do pop up trainings regularly. I also have some formalised webinars, and I do my weekly brief is lab call. These are all different ways for me to let people choose the level of intensity in which they want my relationship to be before they become my client. This also comes across in the types of conversations that you have with people with a potential client, they may be totally ready to be open about what they're struggling with and what they want for themselves and how you can help but also though, with someone out there in the world, they may just have a really vulnerable conversation with you. And that builds a lot of trust right there that builds that that foundation of friendship, that potential business can be built on. And I want you to remember that yes, other people are out there as human beings wanting to be in relationship with other human beings. So are you. You know, you get to be a discerning human being and only accept clients who resonate with you, who you feel a connection to. You're also looking for that spark that chemistry. And let me tell you, when you have clients, who you feel that connected to, it makes running your business so much better. I know it's really tempting when you start out, especially if you're a service provider, and you just need the money to come in the door to accept anyone who's willing to work with you. Don't do it. Pick aligned clients. Hold out for aligned clients hold out for clients who genuinely feel like friends. You'll thank me for it later.
© 2022 - 2023 Katie McManus – Weeniecast